When we talk about "salad recipe", we often imagine mixed salads like Caesar or Niçoise, where the leaves only play a secondary role. It's time to rehabilitate lettuces, clovers, dandelions, watercress, endives and other leaves! In a well-packaged book (Salad, we make a whole plate of itFlammarion, 176 pages, 19.90 euros), the journalist Barbara Guicheteau offers the secrets of these plants to be rediscovered throughout the seasons, because yes, there is also a seasonality for the leaves!
Did you know that the consumption of salads dates back (at least) to ancient times? That the Romans mixed arugula with lettuce to enhance its taste? That in the Middle Ages we tended to cook salads because raw food got a bad press? That Italians still cook or braise most of the chicory and radicchi they cook? That the French gobble up 5.3 kilos of lettuce per year and per inhabitant and are far behind the Spanish?
The book also offers recipes classified by season, where, for once, winter makes you dream of its linguini with puntarelle and capers. While you wait to reconnect with bitter salads, here are three spring recipes to whip up now.
Pesto verde with walnuts and lamb's lettuce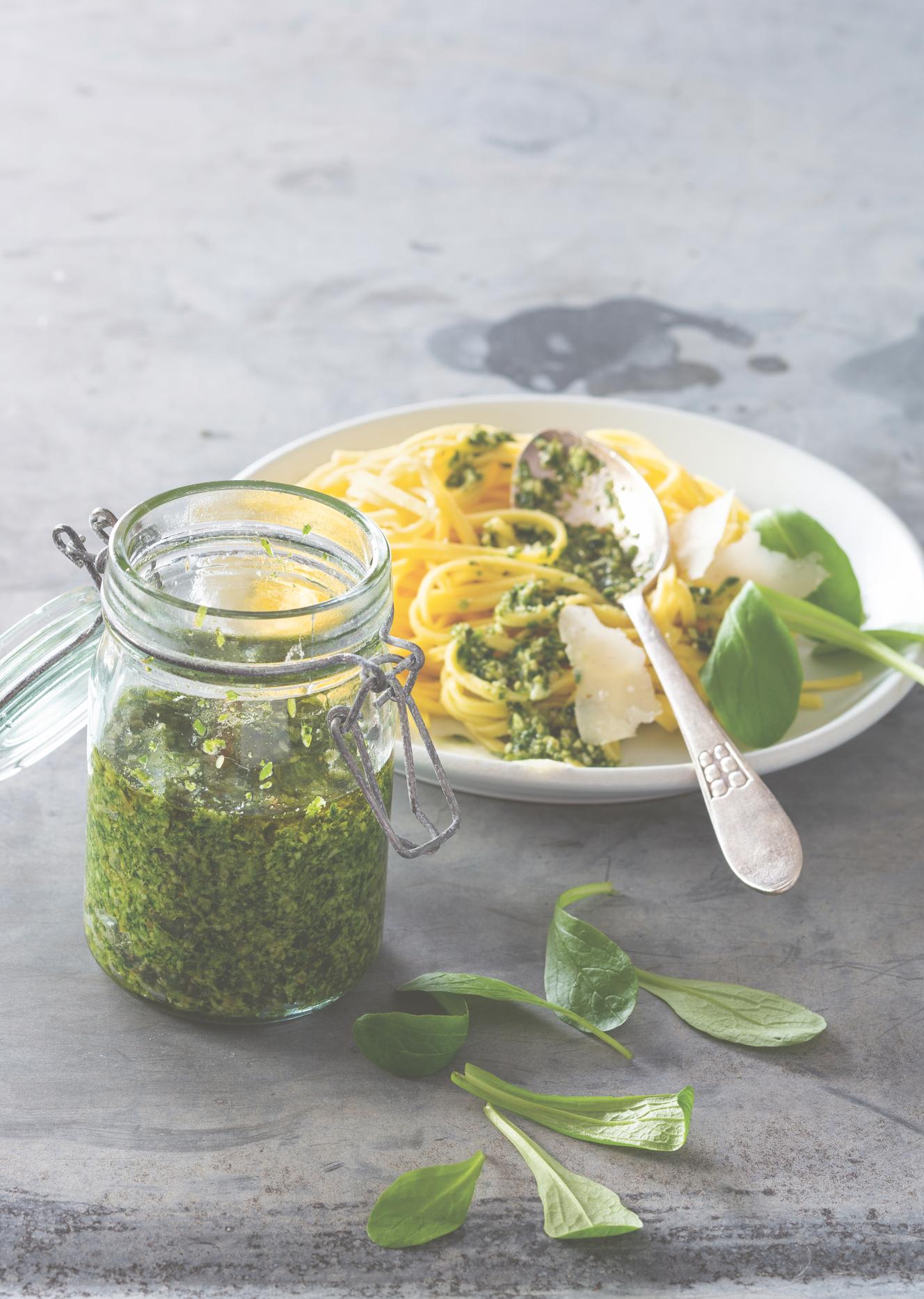 Popularized in its Genoese version with basil and pine nuts, pesto can also be prepared with arugula, sorrel, young spinach shoots, as well as various nuts: walnuts, pumpkin seeds, peanuts, hazelnuts, pistachios… and possibly its associated oil more pronounced taste.
For a good pot of pesto
Preparation 15 minutes. Cook for 5 minutes.
60 g of lamb's lettuce (and a few sprigs to decorate)
30 g of walnuts
1⁄2 clove of garlic
30 g of parmesan
3 cl of olive oil
1 cl of walnut oil
salt pepper
Wash, rinse and dry the lamb's lettuce (remove the muddy feet if necessary). Crush and lightly toast the walnuts in a dry non-stick pan over medium heat for 3 to 5 minutes. Let cool.
In a blender (or in a pestle and mortar for the purists – and brave!), crush the peeled garlic, then the walnuts, grated parmesan, lamb's lettuce and olive oil. salt and pepper
Stir in the oil again and adjust until smooth and creamy.
This pesto can be used as a garnish for croques or al dente pasta (possibly by lengthening the pesto with the pasta cooking water), garnished with sun-dried tomatoes, parmesan shavings and a few bunches of fresh lamb's lettuce. It can be stored for a week in the refrigerator under transparent film to prevent it from darkening too much in contact with air, and up to two months in the freezer.
You have 52.71% of this article left to read. The following is for subscribers only.