KFC is (finally) plant-based with the launch of its first meat-free burger! "With or without p*****, it's still pure KFC" promises the poster. We can't wait!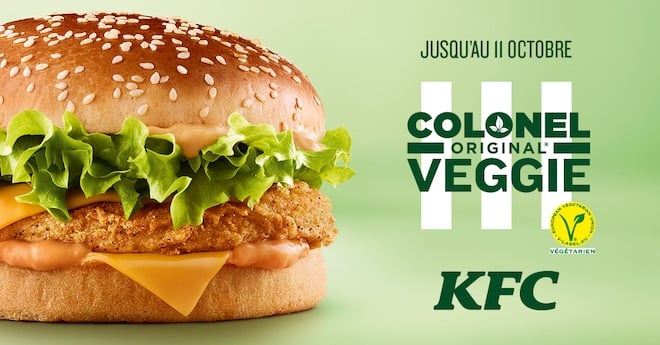 KFC presents its first vegetarian burger, the Colonel Original Veggie! Credit: KFC France
See also
It's not his first test to be completely honest. The fast food chain specializing in fried chicken, KFC, had already launched the 100% vegan "fake fried chicken" in the United States. But this is the first time the brand has launched this vegetarian option in France! Established in France for 30 years, Colonel Sanders' company does not offer an alternative of its kind for customers who are vegetarian, flexitarian or simply curious about new culinary discoveries.
Now it's made with the Colonel Original Veggie, KFC's first vegetarian burger that now reaches around 300 French restaurants. Based on (almost) the same recipe as the original Colonel, so there will be no fried chicken but a vegetarian breaded mushroom protein base. The rest of the ingredients that made this burger famous remain unchanged. "With Colonel Original Veggie, KFC aims to make its offer accessible to everyone, and in particular to those who want to reduce their meat consumption or who have already opted for a vegetarian diet.", rejoices the general manager of KFC France, Isabelle Herman.
KFC goes vegetarian with its first veggie burger!
After Quick or Burger King, it is the turn of the giant KFC to launch a vegetarian burger! Sesame seed and French flour bread, cheddar, salad, the iconic original sauce and a veggie batter, here's the Colonel Original Veggie, available from today at KFC. Made with mycoproteins (mushroom proteins), this batter could fool even chicken lovers! It is therefore in collaboration with the company Quorn, specialist in vegetarian and vegan food based on mycoproteins, that KFC has chosen to offer this exclusive and unique recipe.
"We are delighted with this partnership with Quorn. Mycoproteins are for us the perfect alternative to meat (…), they allow us to obtain a taste close to that of chicken where the secret marinade with 11 herbs and spices from Colonel Sanders stands out and goes perfectly with our empan.", confides the head of innovation at KFC France, Maud Roussel. This vegetarian batter, both gourmet and with remarkable nutritional qualities, will make you crack!
Last but not least, KFC's Colonel Original Veggie is V-Label certified (a certification for vegetarian and vegan products). The recipe will also be served in eco-friendly packaging, grass-based paper made with 20% grass fibres. An initiative to limit its environmental impact that we can only encourage.
If you want to try the Colonel Original Veggie, go to KFC today! But beware, the Kentucky-born brand's first vegetarian recipe is only offered in limited edition. You have until October 11 to find out. But it looks like KFC is already considering adding this burger to its menu permanently…

The first KFC signature veggie burger will be on the menu until October 11, 2022. Credit: KFC France
Sign up for the Demotivator newsletter!
By entering your email address, you agree to receive our newsletter