It's the season of mushrooms and comfort foods. Cyril Lignac has understood this and reveals, on his Instagram account, one of his favorite recipes of the season: the crispy mushroom and cheese. But it's not about rushing to the first plants to come. To prepare his dish, the Aveyron chef opts for Paris mushrooms and shiitake mushrooms, grown in an amazing Parisian urban farm, called La Caverne. More than 30 tons of oyster mushrooms and shiitake mushrooms are produced each year in this structure located… in the basement of a parking lot.
To obtain a crispy dough, Cyril Lignac changes the shortcrust pastry for filo pastry
When it comes to the dough, Cyril Lignac has a trick to making it crispy: he swaps the traditional shortcrust pastry for five layers of filo pastry layered and generously buttered. And for more flavor, the chef combines the mushrooms with a semi-hard cheese (your choice of tomme, cantal, fontina or raclette) and mozzarella. A gourmet, familiar dish that will be perfect for a fall Sunday brunch. To accompany of course with a good green salad and a vinaigrette sauce. Tempted by this creation?
Also to discover: Cyril Lignac reveals the secrets of his sweet autumn and his 4 tips to make it a success
Here is Cyril Lignac's recipe for Crispy Mushroom and Cheese Pasta:
Ingredients for 4 people:
5 sheets of filo pastry
500 g of mushrooms
100g of shiitake
100 g semi-hard cheese (tomme, cantal, fontina, raclette)
1 ball of mozzarella
1 tablespoon parsley leaves
1 grain of garlic
Olive oil
100 g of butter
+ 15 g for the mold
Fine salt and ground pepper
Wash and cut the mushrooms, chop the parsley and reserve them separately. Peel and chop the garlic. Preheat the oven to 185°C.
In a very hot pan, pour a splash of olive oil, add the mushrooms, season them with fine salt and pepper and let them cook for a few minutes on medium heat. When they have lost their vegetable water, add 1 stick of butter, let them caramelize with the minced garlic and parsley. Put them on a plate.
Grease a cake pan and melt the butter. Place a first sheet of phyllo buttered on both sides with a brush in the tin, then continue buttering the other sheets of phyllo on both sides and place them little by little on the plate, alternating each time direction to form a circle.
Spread small cubes of semi-hard cheese on the bottom of the mold, then on top of the mushrooms and finally the crumbled mozzarella. Fold the sides of the filo sheets towards the center to seal well and bake for 20 minutes.
At the end of cooking, when the cake is golden, put it on a serving plate and serve it hot.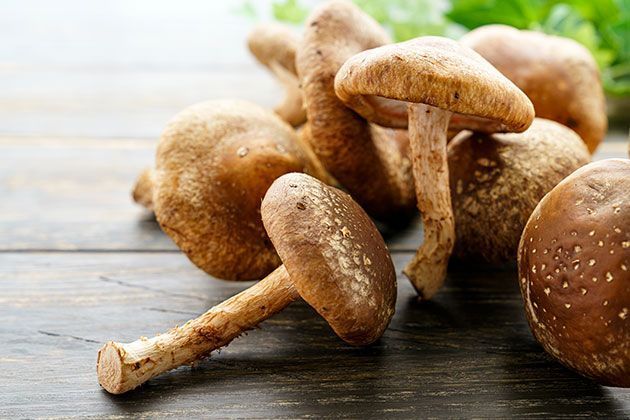 For this fall pie, Cyril Lignac chooses button mushrooms and shiitake mushrooms from an urban farm.